Brainstorming High-Concept Romance Hooks
Plus updates on THE ART OF SCANDAL and recs to get you in the mood for my debut!
THE ART OF SCANDAL Updates
THE ART OF SCANDAL has an official publication date! The book will be released by Grand Central Publishing on August 1, 2023.

A cover reveal and preorder links are coming soon. Be sure to subscribe if you want to be notified as soon as both are live!

I'm currently brainstorming possible preorder gifts and would like your input. Please vote in the poll below. If there's a preorder gift you love that isn't listed, feel free to let me know in the chat thread located here.
---
How I Brainstorm High-Concept Romance Hooks
High concept is one of those terms you often hear in publishing, but trying to figure out exactly what it means can be frustrating. To me, a high concept is a story that is easily summarized as a one or two-sentence pitch that clearly conveys a new take on a familiar premise. Low-concept or quieter hooks tend to be more character-focused and are difficult to summarize with a single line. That isn't to say that high concept books can't have complex character arcs, but it's typically paired with a plot that satisfies the "new take on a familiar premise" idea above.
I've read and loved quiet romance books. But as a writer, I tend to be drawn to high-concept plot ideas. I think this is because my entry point into romance was daytime soap operas and high-conflict historical romances. THE ART OF SCANDAL combines both of those influences: a soap plot hook with a scandal-obsessed setting that evokes the regency romances I grew up with.
Below is a list of strategies I use to develop easily pitchable, high-concept romance hooks. While none of these approaches are guaranteed to work for every book idea, they're a good starting point for that initial brainstorming period when the story is just starting to take shape.
Before I start drafting, I write a one-sentence pitch. Here's one of my favorite articles that walks you through how to craft a short pitch. If the story isn't easy to summarize this way, I tweak the premise until it works.

When developing a premise, I think big but plausible. A wild premise that feels far-fetched can work if it's grounded in authentic characters and emotions. For example, million dollar deal to fake a happy marriage sounds far-fetched until it's executed with fully developed characters that feel like real people striving for universal goals and needs.

Sometimes I give the characters mutually exclusive goals. If character A gets what they want, then character B can't get what they want. Or I force character A to choose between their external goal and character B. When falling in love is the external conflict, the elevator pitch writes itself.

I love to subvert a popular romance trope. Instead of a fake marriage, I'll write about a fake divorce. Instead of older brother's best friend, I'll write older sister's worst enemy. Or, in THE ART OF SCANDAL, instead of entering a marriage of convenience, Rachel is stuck in a marriage of inconvenience. The familiarity of the original trope creates a mental shorthand for the reader because they can easily picture the promise of the premise.

Once I develop my premise, I try to create characters who would be the absolute worst people to be in that situation. For example, if I wanted to write a romance set during an Amazing Race-type reality show with couples, I might develop main characters who are two retired tennis rivals with an unresolved grudge over a big, career-ending tournament who are now forced to pair up for a chance at the prize.
If you're working on developing a high-concept romance, I hope you find some of this useful. Let me know in the comments!
---
Recs to Get You In the Mood for the Art of Scandal
August 2023 will be here before we know it, but if you're curious about some of the themes featured in THE ART OF SCANDAL, the rec list below will give you a preview of what to expect from the story.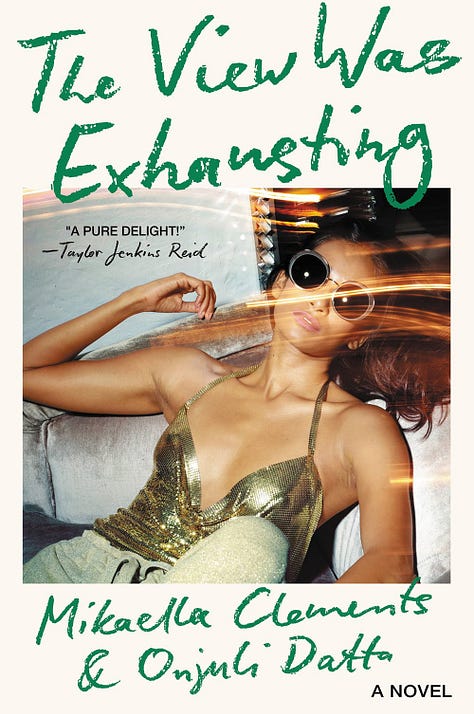 Book Rec: THE VIEW WAS EXHAUSTING by Mikaella Clements and Onjuli Datta
This celebrity fake dating romance is soapy, sexy fun. It also touches on the power dynamics of interracial relationships and the difficulties women of color face when living in the public eye.
Movie Rec: Beyond The Lights
Another celebrity romance featuring a Black woman wrestling with identity in a very public way and trying to rediscover her authentic voice. The romance also has a touch of forbidden love.
TV Rec: The Good Wife
This show starts with a bombshell political sex scandal that rocks the "perfect" life of a woman who is forced to return to the legal career she abandoned to support her husband's career. Sexy, soapy hijinks ensue.
Thanks for reading The Black List! Remember to subscribe, so you don't miss my next post: Why My Love Scenes Will Never Further the Plot.